Wildfowl is an international scientific journal published annually by the Wildfowl & Wetlands Trust (WWT). It disseminates original material on the ecology, biology and conservation of wildfowl (Anseriformes) and ecologically associated birds (such as waders, rails and flamingos), and on their wetland habitats. Research and review articles related to policy development and application are welcome. Material on habitat management is also sought, particularly where this is directed to the conservation of wildfowl and other wetland birds.
Impact factor: 0.762 (2018)
Print ISSN: 0954-6324
Electronic ISSN: 2052-6458
Wildfowl 68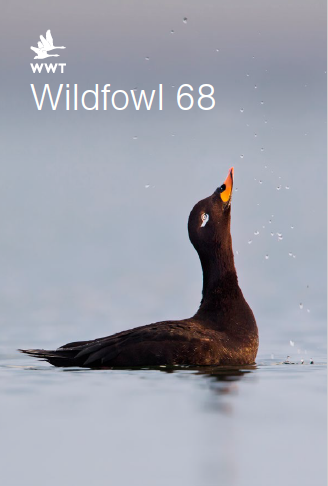 Table of Contents
Front Matter
Standard Papers
| | |
| --- | --- |
| Estimating the autumn staging abundance of migratory goose species in northern Kazakhstan | PDF |
| Richard J. Cuthbert, Tomas Aarvak, Emil Boros, Toni Eskelin, Vasiliy Fedorenko, Risto Karvonen, Andrey Kovalenko, Samuli Lehikoinen, Nicky Petkov, Attila Szilágy, Jànos Tar, Sami Timonen, Alexey Timoshenko, Konstantin Zhadan, Ivan Zuban | 44-69 |
Short Communications
Back Matter
This work is licensed under a
Creative Commons Attribution 3.0 License
.